Nikon M-223 1.5-6×24 BDC 600 Rifle Scope Review
One of the many questions we receive is, "Which scope should I get for my hunting AR?" That's a tough question to answer without any more information to go on. What we might recommend will depend greatly on what game you are meaning to hunt, the ranges at which you are planning to shoot, etc. Today, we are going to take a look at a scope that I've found to be a great option for those looking to hunt mid-sized game, such as whitetail deer, hog, or even smaller varmints like coyotes.
Nikon's M-223 and P-223 lines have been extremely popular amongst the AR community, due to them offering relatively good "bang for your buck". You can get a nice optic without breaking the bank, and with Nikon's camera optic history, it's no surprise they make some high-quality scopes. When talking with our friends over at Nikon, I told them that I had an upcoming whitetail deer hunting trip planned for the 2015 season, and that I'd like to try out one of their scopes. The rep we worked with recommended their M-223 1.5-6×24 BDC 600 scope, which at first I wasn't too keen on using a BDC reticle. I'm not usually one to use a BDC, as the come-up points are usually tailored to a specific load. In this case, the BDC 600 reticle is setup from the factory for the trajectory of a 55gr polymer tipped  projectile traveling at approx. 3240fps. If you happen to be using this type of ammo (Hornady v-max, Nosler Varmageddons, Sierra BlitzKings, etc.), the come-ups should be pretty accurate out to 600 yards. While I use 55gr ammo often for hunting varmints, I typically use heavier projectiles for larger game. In this particular instance, I was using this scope with a .277 Wolverine upper, running 100gr Nosler Accubonds. Then the rep mentioned that this particular scope was compatible with their Nikon Spot On Ballistic system, and that you could easily match up the BDC to about any load; including your own hand loads. That got my attention.
Spot On is basically a ballistic calculator that Nikon has developed for use with many of their scope offerings, which allows you to choose your particular scope, then pick from an extensive list of cartridges that you may be using; from Rimfire like .17WSM, all the way up to .50 BMG. Next you can either choose from an impressive list of ammunition manufacturers to find the exact load you are using, or you can enter in your own data for ballistic coefficient, velocity, bullet weight, scope height, etc .
Once you've entered in all the appropriate data, Spot On will give you a read out of what your hold overs, or come-ups, will be for your specific load. This is actually a very cool feature that Nikon is offering, which makes the BDC an appealing option; something I never thought I'd say for a hunting rifle. Above you can see the readout it gave me for the 100gr Nosler Accubond loads I was using. What's interesting is that if you want to run say a 50 yard zero, yet only have access to a 25 yard range, Spot On will tell you where to place your POI (Point Of Impact) on a target at 25 yards, to get the proper trajectory for your 50 yard zero. Very cool stuff. For those that have a rifle that they plan to shoot pretty much only one load out of, you can even order custom made elevation turrets for some of their scopes, which are tailored to your load. Being I plan to use this scope with various calibers (.223, 5.56, .25-45, .277WLV, etc.), I chose not to utilize that service. With most of their scopes, there's a fee for the custom turrets, about $100 or so, but if you buy one of their XR series scopes, this service is free of charge.
With that out of the way, Nikon sent us the M-223 1.5-6×24 BDC 600, and we proceeded to get it mounted up in a 30mm Aero Precision Ultralight scope mount.
Specifications
Magnification: 1.5 – 6 x
Objective Diameter: 24 mm
Exit Pupil: 4 – 16 mm
Field of View: 19.7 – 79.2 ft @ 100 yds
Tube Diameter:  30mm
Eye Relief: 3.8 inches
Objective Outside Diameter: 30 mm
Eyepiece Outside Diameter: 44 mm
Weight: 17.3 oz
Overall Length: 10.5 in
Adjustment Graduation:  1/4 in @ 100 yards
Parallax Setting:  100 yds
Waterproof/Fogproof: Yes
Reticle BDC 600
Spot On Custom Turret Available: Yes
What's in the box?
The 1.5-6×24 BDC 600 scope we tested came with the above items, which includes the rifle scope, lens protecting caps, manuals for the scope and BDC reticle, and a nice Nikon branded lens cleaning cloth. The Aero Precision mount was not included.
Close Up Look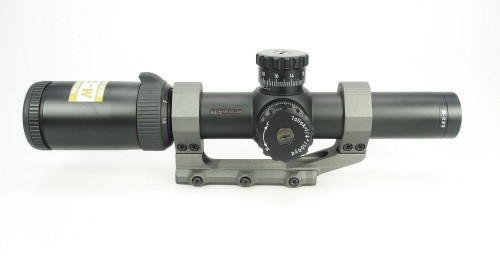 Here we can see the M-223 1.5-6×24 BDC600 scope mounted in a 30mm Aero Precision Ultralight scope mount, which happens to be Cerakoted tungsten grey. We use a lot of Aero Precision scope mounts, due to them being extremely light, and very affordable.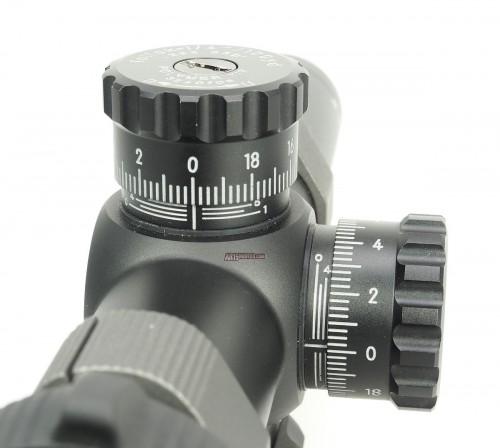 This scope has only Elevation and Windage turrets, there is no side parallax adjustment (aka side focus). The parallax is set from the factory at 100 yards.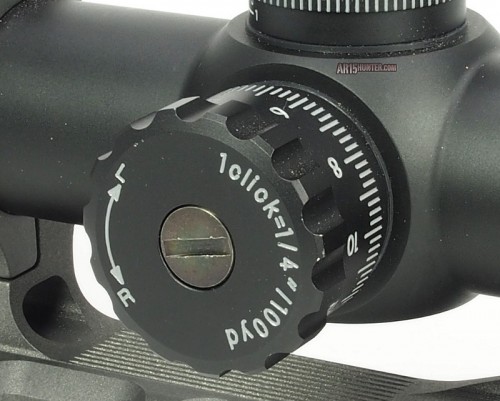 Both turrets offer fine adjustments, which they note that 1 click equals 1/4″ at 100 yards (or about 1/4MOA).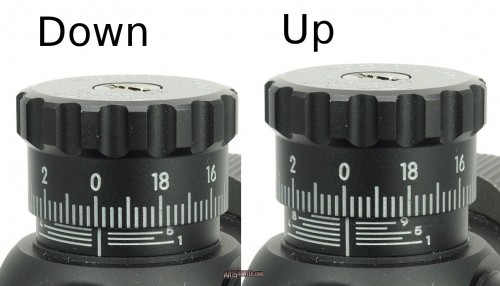 Once you have zeroed your rifle, you can zero the turrets by simply pulling up or out on the caps, then rotating the cap around until you have it lined up. This is a very handy feature, which means you can zero your turrets without the need for tools; something that is required most of the time.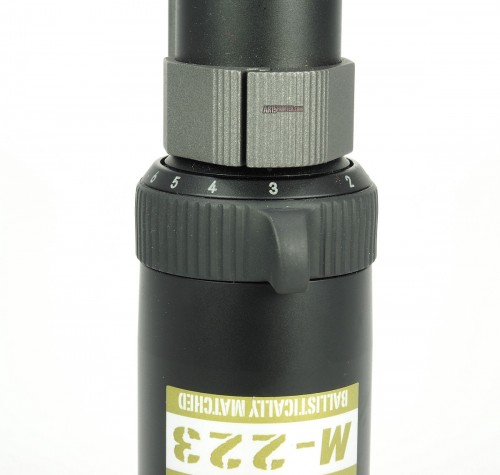 The magnification ring offers a nice rubber grip to it, along with a short throw lever that's built into the rubber. This makes changing magnification simple, even when your hands or gloves may be a little wet. This particular model has markings for 1.5, 2, 3, 4, 5, and 6x.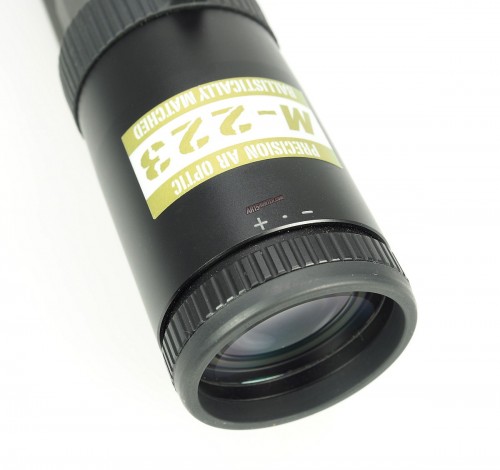 The ocular lens has a focus adjustment to match the the scope to your eyesight. This focus knob is not used to put your target in focus, rather the reticle. You need to adjust this until the reticle is nice and crisp, then leave it alone. The eye relief for this model is 3.8 inches.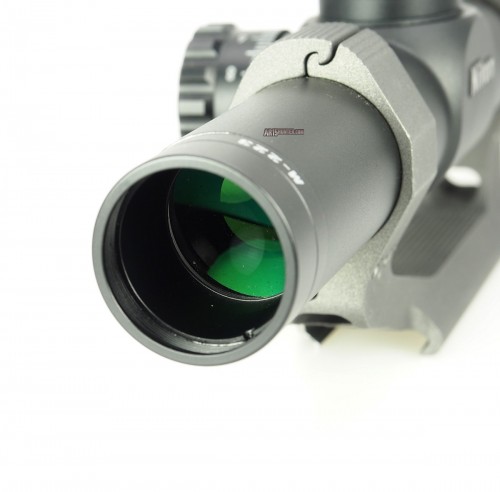 Here you can see the objective lens, which is 24mm. While not huge, I found that it gathered light quite well, allowing me to see game even at pre-dusk. The green tint you see if from the Multicoating Nikon applies to protect the lens from the elements, and also help it offer, "maximum brightness and maximum light transmission".
BDC 600 Reticle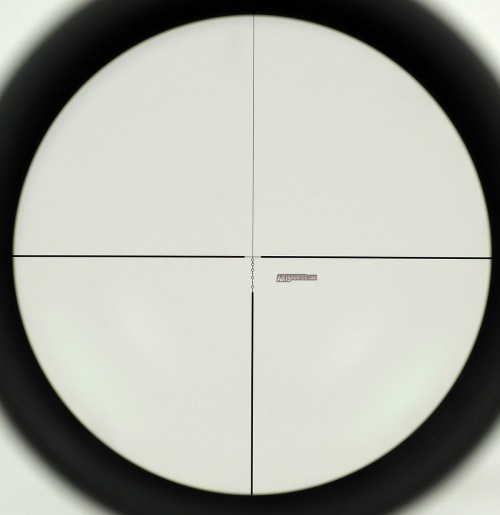 Above is a close-up view of the BDC 600 reticle. As you can see, it's a very fine reticle, which I really like. This allows you to focus on your target easier, and for me it made using the reticle that much better. Having too busy of a reticle can distract ones attention from the target. You get a fine crosshair in the center, with five dots below, with small lines in between. These are all come-up reference points, which will allow you to simply hold higher on your target at specific distances. What distances those are will depend on the load you are using, and thanks to Nikon's Spot On, you can predetermine those come-ups for your specific load. As always, we recommend you verify those come-ups at the range, before heading out to hunt; especially if you're planning to take long shots.
Out in the Field
While zeroing the rifle, the turrets offered a nice defined click, and they have enough resistance to ensure they won't be easily bumped out of adjustment while out in the field. I really like the way the caps can be pulled up or out, then spun around to zero them out, once you have zeroed your rifle. On many scopes, you have to use an Allen, Torx, or standard screw driver to loosen the caps for this procedure. The zoom ring offers a good amount of resistance also, but not enough to make it difficult to change magnification; even in some very cold conditions. The rubber grip and addition of a small nob or lever on the ring made adjusting the magnification simple, even when using gloves or when your hands are wet from rain or snow.
Like I mentioned earlier, my initial plan for this scope was to use it while hunting whitetail in either West Virginia or Michigan. If you read our "Hunting Northern Michigan with the 277 Wolverine" article, you'll know that this M-223 scope helped me harvest one of the largest doe I have ever taken. We got a lot of good meat from that girl, and part of that is thanks to this scope. Due to its clear picture, even as the light started to fade, I was able to make a single shot on my prey. You can't ask for more than that from an optic.
Another thing I want to note is that this scope is waterproof, shockproof, and fogproof. I've used this scope in some extremely cold temps, as well as in light rain and snowy conditions. The elements had no affect on its performance, which is an important factor when looking at an optic that will be on a gun that's not just a range toy. Conditions are very rarely optimal when hunting, so having a quality optic that can handle the elements is crucial.
Closing Thoughts
At first, I was not too thrilled about the idea of using a BDC reticle for hunting. While they are a popular option these days, especially when using an AR, I personally never liked them due to the dots being setup from the factory for a specific load. However, with Nikon's Spot On, you can now tailor most of their BDC scopes to your specific load, whether you're using factory loaded ammunition or your own hand loads. That's a very appealing feature, and it makes their BDC reticles much more versatile, when compared to the competition.
With a suggested retail price of about $599.95, or $799.95 for the Illuminated Reticle version, the M-223 1.5-6×24 BDC 600 is competitively priced. While it's one of their more expensive offerings in the M-223 line, it's about half the price of much of its competition. While I'm not going to say it's just as good, being I don't have some of the other optics in house to test side-by-side, I will say that I feel this particular scope is a good value, offering a bright view of your target, even in marginal lighting conditions. It's well built, and I can't think of one negative experience I had with it during my tests.  In the end, you'll have to decide whether or not this scope is for you. I will continue to use this scope in the field, as I'm very satisfied with its performance.
If you'd like to snag one of these for yourself, visit opticsplanet.com by clicking here. Note, purchasing produces via the links in this review does help support us here at AR15 Hunter. We want to thank those who choose to use these links to purchase products that we recommend.
Latest posts by Will Chambers
(see all)