The forecast called for the coldest day of the year and I was dying to get out and do some coyote hunting.  In the desert surrounding Phoenix this meant morning temps in the mid 20's, but I take what I can get, so I packed my gear and headed out.  I drove to an area I hadn't been to in a few years, and started the two mile hike to my spot.  I was only about a quarter mile in, when the morning sun began illuminating my path.  I started to notice a lot of scat and paw prints and thought it was silly to keep walking when I was in the thick of it already!
"Four long minutes later she showed herself again between two bushes…"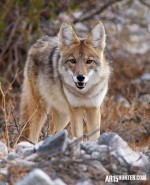 I set my Foxpro about 20 yards away, sat down against a small mesquite, and soon the sounds of a dying cottontail rabbit filled the valley in front of me.  I called and called, until twenty-five minutes had elapsed.  Just when I started to think about giving up, I heard a twig snap directly to my right.  The rare southern Arizona occurrence of frozen ground betrayed the cautious approach of a coyote.  I slowly turned just in time to see her crest a small hill and disappear into the brush.  I quickly pivoted my Rock River Arms Predator Pursuit to the last spot I saw her and switched the call to pups in distress.  Four long minutes later she showed herself again between two bushes ninety six yards away and right where my rifle was pointed. I eased up onto the scope and easily took her down, my newly installed Velocity Trigger making it simple.
The shot took her square in the chest and the 55 grain Nosler Tipped Varmageddon dropped her right on the spot.  I am thankful for a beautiful morning and for my AR15, which is the most modular and customizable rifle in existence.
Build Info:
Weapon: Rock River Arms Predator Pursuit AR15
Optic:  Leupold VX II – 4-12 x 50mm
Scope Mount:  Rock River Arms Cantilever Mount

Latest posts by Justin C.
(see all)