My plan was to use my 6.8 SPC AR15, shooting the Hornady 100 grain GMX bullets for my upcoming Mule Deer hunt.  Test firing the 6.8  SPC wasn't a time consuming activity, but it was crucial that I had my weapon in tip top shape, and sighted-in, for my hunting trip in the Hinkey Summit, Nevada area.  Two days after getting my AR15 set, we were on our way to start the hunt.  It was the night of October, and the first weekend of my hunt.
The drive up to Winnemucca was only 3 hours, but it felt like time was passing very slowly.  When we arrived at the motel in Winnemucca we got our room, planned out the next day and then went to sleep. Day one, we woke up at 5:00am and after getting coffee, we made our way towards Hinkey summit.  We arrived at the hunting area around 6:30am, and it was a beautiful area to be in. We hiked down from the top of the summit and surprisingly found deer sign quickly.  The second ridge we crossed, we snuck up on a little herd of deer.  Only about 5 or 6 deer, but we ended up getting about 30-40 feet  from them. I couldn't get any clear shot because they were gone in less then a second and I could only confirm the sexes of 2 of them.  To go to a new territory and find game on the first hunt, is a very nice thing to have happened.  The hiking was easy until we turned around and had to hike up hill.  It was exhausting.  We didn't see any more deer that morning.  After getting to the truck, we drove to the campground where we were going to spend the night. It was a fantastic camping spot.
The afternoon hunt took us to a ridge below Hinkey Summit.  We started on the bottom and worked our way up to the peak.  Since it had many of the same bushes that we found the deer hiding in on Hinkey Summit, we figured this neighboring hilltop might be a good spot.  We found lots of tracks but no deer.  …at least not alive.  We found a cougar kill on the way back to the truck just before sundown.  It was a nice symmetrical 3×3 at about 26″.  At least we knew there were decent deer in the vicinity.
We woke up the next morning and went out to a lookout point.  After waiting for 20-30 minutes, we got out and walked the tree line down into a canyon where quads couldn't disturb us.  We saw a blue grouse along the way, but didn't see any deer. This was the end of the first weekend and it was a fun, exciting weekend.
Two weeks later we went back for our last weekend, and we decide to go straight to the campsite to spend the night and get a jump start on the deer.  At first light, we headed for a steep canyon that would take us to an area that was far from the quad traffic.  We actually saw a half dozen doe on the hillside of the canyon along the way.  It was nice knowing we were on the right track.  We crested this little sand pit saddle and my dad spotted a buck! This buck was huge!  I mean it was the monster of all monster bucks out there!!! I was so excited to see this buck even though it was 600 yards away from me!  We inch our way towards this buck and he didn't even know we are even there. The buck was resting behind a bush this whole time, and we got to where we were about 200 yards away him.  As I try to get closer, he gets up and starts to walk.  I am set up for this shot really well, but I accidentally clink my gun against a rock and the buck hears it and looks my direction.  I shoot……  but he is still standing there. I shoot three more times and then he just runs away!!!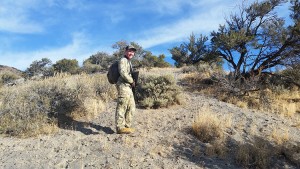 My dad knew this was an easy shot, so we checked the sights.  It turns out my rifle was shooting way to the right. That's why I missed my chance at a record breaking buck! I was so made that day.  We hiked around towards where we last saw the buck run.   We never did see him again, but we did see at least one doe that afternoon.  After hiking and hunting 8 miles into the wilderness, it was time to head back to camp.  After missing the biggest buck my dad had ever seen in the wild, I managed to lose my binoculars somewhere on the way back!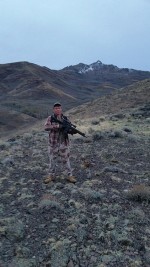 For the last hunt of the weekend, I wanted to trade my 6.8 SPC for a Franklin Armory Militia Model 308 my dad kept for a spare on this trip. He had taken a buck with it at 400 yards a couple months earlier, and it had a solid Leupold scope on it.  We headed up the mountain straight from camp and walked through the bushes on the ridgeline. After a mile or two we  a small fork came out of the brush.  My dad said it was a buck, and it was barely legal  But, if i wanted to take it, I could.  I thought since it was the last day I might as well come home with something.  The buck stopped 150 yards away, and I get one my knee and took the shot.  I hit him right in front of the shoulder, and he didn't go far.  After tracking a short blood trail, my dad and I worked to take him to the ridge top.  My dad pulled him back down to camp after we took pictures.
The reason that my dad had to take the deer back was because I went to go look for my binoculars but I couldn't find them. I made it back to camp, and my dad had already gutted the buck.  On the tag apparently it said any sex so I legally could have taken a doe earlier on.  I am still glad to have taken a buck instead.  Overall it was a fantastic hunt with one shot kill.  Thanks to my dad for helping me, and Hornady for the ammo which we will use on a future pig hunt.