Elftmann Tactical AR15 Match Trigger Review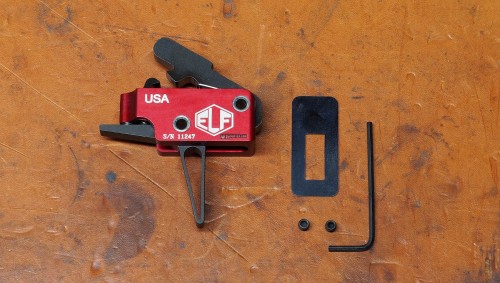 Over the years, I have tested a plethora of triggers for the AR15 platform. If you've read any of my past reviews, you'll note that I'm a big 2-stage trigger fan; with my hunting triggers breaking somewhere between 3.5 – 4LBS. That said, there are a lot of hunters and shooters who prefer a good, light, crisp single stage trigger. Enter Elftmann Tactical.
Shortly after being featured in a TIME Magazine article, we were contacted by Chris Capps from Elftmann Triggers. Chris handles sales for Elftmann on the east coast. He had saw the TIME article, and he wanted to get one of the Elftmann triggers in our hands to see how we liked it. After a conversation with Chris on which model of the Elftmann line he felt would be best for hunters, we decided on the Elftmann Tactical Match trigger.
Key Features (from Elftmann's website):
Fits any mil-spec AR-15 lower receiver (Large pin Colt option available)
Absolutely Drop-Safe regardless of pull-weight
Factory set Pull-weight is approximately 50% lighter than that of a standard AR-15 trigger, providing a great combination of speed and accuracy
Adjustable from 4lbs to 2 3/4lbs without removing from the lower
Full power hammer spring ensures proper ignition of primer
Very short pull and reset allows for rapid follow up shots and greater accuracy
Sturdy trigger assembly designed for rugged, trouble-free use; Made of lightweight
aircraft-grade aluminum and hardened steel
Unique design of disconnect allows full 1/4″ width eliminating possibility of wear and double-firing
High performance, aerospace grade trigger and hammer needle bearings for smoother and faster firing
Benefits a wide variety of AR-15 enthusiasts, including collectors, competitive shooters, hunters,
military, law enforcement, and disabled veterans
100% made in America with a Lifetime Guarantee!
Watch our video review below:
Their Match trigger is an adjustable single stage trigger that allows you to dial in the pull weight from as little as 2 3/4 pounds, on up to about 4 pounds. Like most of their offerings, you can choose a curved or straight trigger bow. While I normally run curved bows in my ARs, I have found that I really like a flat trigger on my 1911s. So, this go around I opted for the straight version of Elftmann's Match trigger.
A few days later, the Match trigger arrived and I was eager to get it installed. The rifle I chose for this review is a Daniel Defense DDM4v11 Mil-spec+ in their Tornado Grey.
Close up look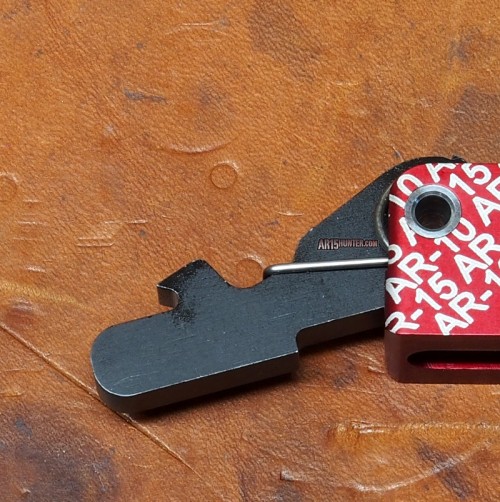 Above you can see the unique hammer of the Elftmann trigger.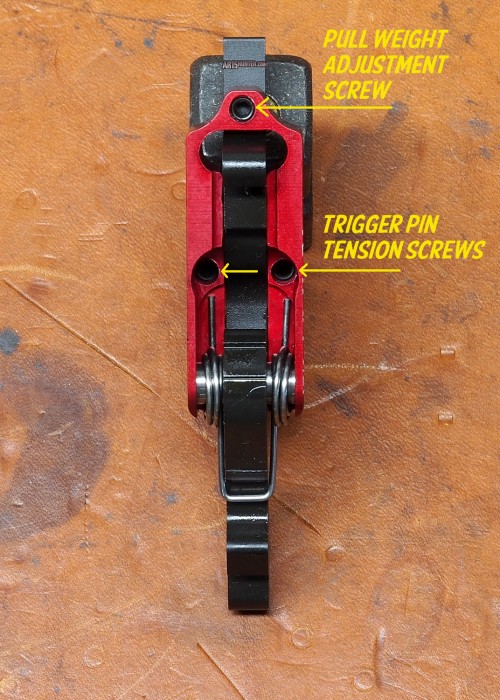 Here you can see a top view of the trigger pack. At the top (rear of the unit) is the trigger's pull weight adjustment screw. In the center are the two trigger pin tension screws. Elftmann includes a 5/64 Allen wrench to adjust each of these screws.
Side-by-side comparison
Here we have a comparison photo so you can see the Elftmann flat trigger bow compared to various other triggers; from left to right – Elftmann, CMC 2/2, LaRue MBT, Geissele Hi-speed, Rock River 2-stage, standard AR trigger.
One thing that Elftmann claims is that their triggers are 100% drop-safe. This is achieved thanks to their unique "drop safety" hammer design, which is essentially an extra notch in the hammer that allows it to catch the sear face of the trigger. Under normal operation, the half-cock position never comes into play. However, in the event that you drop your rifle and the hammer somehow slips off the sear, the trigger will catch on this "drop safety" notch in the hammer. While we try not to drop our rifles, it does happen when you're out hunting; whether busting brush or crossing a fence line. While I can't say for sure this system makes dropping your AR any safer than with any other fire control group, it is nice to see that Elftmann puts safety as one of their top priorities.
Another unique thing about the Elftmann triggers is that they are the only triggers on the market, that we know of, that use aerospace grade needle bearings for the trigger and hammer. They note that these bearings help their triggers offer "smoother and faster firing". While I didn't try and run this Match trigger really fast, I did notice that it offered very smooth operation, and I'm sure these bearings help attribute to the clean break that I noted with this trigger; more on that below.
Install
Being that this is a true drop-in trigger pack, installation was very easy. Elftmann includes detailed instructions, with lots of pictures (we like pictures). With the trigger, disconnector, hammer, and springs being captured in a housing, you simply remove the grip and safety selector on your lower, and drop the Elftmann trigger in. Next you insert some trigger pins (no pins are included), and then carefully tighten down the tension screws; which are what hold the trigger pins in place. Until you start to put some tension on the screws, the pins will very easily fall out; so, having the lower in the upright position during installation will help ensure you don't drop the pins. That, or use some masking tape on one side of the lower to capture them if you plan to lay the lower on its side during install.
Once the tension screws are secure, you will then add the included lock screws, which go over the tension screws to lock them in place. Then, throw your safety selector back in, the detent and spring, and finally your grip.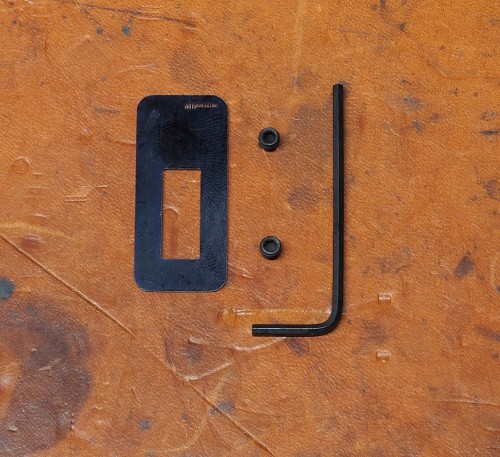 For those using a polymer lower, or for those who want to make sure the tension screws don't leave marks on the floor of their forged/billet lower, Elftmann includes the above steel plate. While it's an optional accessory for forged/billet lowers, they do recommend you always use this plate when using their triggers in a polymer lower receiver.
Initial Impressions
As I mentioned earlier, I'm partial to 2-stage triggers in my ARs. I like being able to take up most of the pull weight in the first stage, leaving just a pound or two of force left to break the shot. That said, I was very impressed with the Elftmann trigger. There is virtually no creep at all as you apply pressure, with a clean break once the sear lets go of the hammer. The trigger then moves reward with minimal over travel. The break is nice, with a similar feel to that of a Geissele SSA; in my opinion. The reset is very short, and gives a positive click; both audibly and in feel. I'm pretty sure this trigger offers the shortest reset out of any trigger I've used. This is very appealing for quick follow-up shots; and it's sure to be something that 3-gun and other shooters who like to shoot fast will enjoy.
When I spoke with Chris, he had asked me to run the trigger as is from the factory, before changing the pull weight; which is exactly what I did. After initial install and a few dozen dry fire drills, I proceeded to measure the pull weight from the factory. Now, it's important to note that when I do my trigger pull weight tests, I'm measuring from about the center point of the trigger bow (maybe just a tad lower than true center). I try to put the gauge where my finger falls naturally.
That said, I then did five consecutive pulls with my Lyman Electronic Trigger pull gauge. My average was 4LBS 3.5OZ. This is slightly above the 4 pound maximum Elftmann lists, but again, that could simply be due to where they place the gauge when testing their triggers. Overall, the pull weight felt really good from the factory. It honestly felt lighter than 4LBS when using my finger as the gauge, and I didn't feel like I needed it much lighter. However, for the sake of my review, I decided to play with the pull weight to see if I noticed an improvement by lightening it up a bit.
To adjust the pull weight, you simply pop out the rear take-down pin on your rifle, pivot the upper, and use the included 5/64 Allen wrench on the rear most set screw; which is at the back of the trigger housing, shown above. Turning it clockwise will increase the weight, counter-clockwise will decrease the pull weight. It took about 2 and a 1/4 turns to take the pull weight down to advertised minimum of 2LBS 12OZ, or 2 3/4 pounds. I didn't try to take it any lower, as they do note that if you adjust it too light, the disconnector won't release (or too heavy, and the trigger won't pull).
While the trigger still felt good at 2 3/4 pounds, it was too light for me. I added two full clockwise turns of the adjustment screw, and I was right at about 4 pounds. Each full turn seemed to adjust the weight by about 3/4 of a pound for me, give or take a few ounces. I continued to play with the pull weight to see what I liked best, and I ended up preferring the trigger to break at about 3LBS 4OZ. One important thing to note is that no matter what you set the pull weight to, Elftmann notes that the hammer will still be "full power", due to its unique geometry. And, as mentioned above, it's still 100% drop safe. The one thing I noticed during this procedure was that no matter what I set the pull weight too, the break was nice and consistent; it felt the same across the board. This is a very good thing.
At the range
Before playing with the trigger's pull weight, to dial it in to my liking, I did get some live fire time with the trigger at the factory setting. While I only put a few mags worth of ammo down range initially, I was really liking the feel of the trigger. While it's not the most crisp trigger I've used – which is so far the Geissele Hi-speed series, followed closely by the LaRue MBT – the break is very nice, and I love the rest. There is plenty of pressure pushing your finger into the reset, which is short and positive. I can see why these are popular amongst 3-gun and other tactical style shooters. These same features can also appeal to us hunters, with the consistent and light break and fast/short reset allowing for quick and accurate follow-up shots. As you can see in our video, I was able to make quick, yet accurate follow-up shots on my steel coyote target at 200 yards – even when shooting from the standing.
After shooting at the 200 yard steel, I moved over to the echo silhouette steel target at 300 yards. Once I got on target (which took 3-4 shots), I was able to quickly and consistently put rounds on the target; thanks in part to the smooth operation of the Elftman Match trigger, with its short reset and clean break.
Closing Thoughts
Considering that I'm a die-hard 2-stage trigger guy, I was very impressed with the Elftmann Match trigger. If you're one of those guys/gals that doesn't like a 2-stage trigger, you'll definitely want to check out the Elftmann.  It offers a pleasing break with virtually no creep, and an amazing reset that is both positive and short. I also really like the flat trigger bow, which has a ribbed texture machined into it to help keep your finger in position.
The only negatives I can find about this trigger are the price, and the fact that they do not include trigger pins. At $259 retail, the Elftmann Match is one of the more expensive options out there. And, being they don't include trigger pins, is a bit frustrating. That said, if you're replacing an existing trigger in your AR, this is a non-issue. They do also offer a nice set of anti-rotation/anti-walking pins for an additional $20. Even though the Elftmann Match  is a bit pricey, you have to also consider that this is an adjustable trigger; where as most AR triggers do not offer the level of adjustment this unit does. You either have to bend some springs, or buy lighter/heavier ones to adjust the pull weight. With the Eltfmann Match, you just turn a set screw.
If you're interested in buying an Elftmann trigger, please contact Chris Capps (chris7202000@yahoo.com), or visit their website (http://www.elftmanntactical.com/store/). Either way, please tell them that AR15 Hunter sent you!!!
Latest posts by Will Chambers
(see all)