Franklin Armory BFSIII BFS Gen3 Binary Firing System Trigger Review
On Independence day (2016), Franklin Armory released an updated version of their Binary Firing System; dubbed the BFSIII; also known as the BFS Gen3. While this is being referred to as the third generation of this trigger, many of you may be wondering what happened between the last BFS, and this one? Well, the "original" BFS we tested last year was actually the second generation of the BFS, which we'll be referring to as the Gen2 in this article.  The first generation of the Binary Firing System was never released to the public, with only a prototype drawing being displayed at SHOT Show 2015. After some suggested changes from BATFE, Franklin developed and released the BFS, aka the Gen2.
See our YouTube video review here:
Franklin Armory was kind enough to send us a pre-production sample of the Gen3 prior to its launch on July 4th. This unit was pretty much identical to the full production models they are shipping now, save that our pre-production trigger lacked any type of finish on the disconnector and IDS. I dropped the unit into my brand new Daniel Defense DDM4v11 rifle, and hit the range. The results were impressive from the start, with the most noticeable difference in performance being the trigger's pull weight; we'll get into that more later. After about a week with the pre-production model, we sent it out to the next media outlet, and patiently waited for our full production sample to arrive.
The original shipment date was set for early to mid August, which Franklin held pretty close to, starting shipments by the end of the month. Unlike some companies out there, Franklin was open and upfront about any and all delays, and they worked tirelessly to get the Gen3 trigger out as fast as possible. We received ours in the first week of September, and tore open the box like a kid at Christmas! Inside was the BFSIII trigger components, along with two sets of trigger/hammer springs, an extra IDS spring, and their extra power carbine buffer spring.
Improvements over the Gen2 BFS:
A simpler design that is not restricted by existing drop-in AR-15 trigger patents
Easier to install (no shimming of the trigger pack or machining of your lower required)
A lighter total pull weight of approx. 4.5 LBS (+/- .5 LBS)
Uses a standard hammer, making it compatible in just about any rifle that uses a standard AR-15 fire control group (.308AR/AR10, Sig MCX/MPX, blowback ARs, etc.)
No BUD (aka Back Up Disconnector)
Lower pricing than the competition ($429.99 MSRP)
Close up look
Above you can see the BFSIII kit, which includes: BFS trigger assembly ( Intermittent Disconnector Spacer, disconnector, disconnector spring, and the IDS spring captured by a dummy pin), the trigger spacers, standard semi-auto hammer, Franklin's Ambidextrous safety selector with one short and one long paddle and paddle screws, two mil-spec trigger pins, two sets of trigger/hammer springs (standard mil-spec + lighter set to adjust pull weight), a spare IDS spring, a sticker with safety selector markings, and finally their extra power carbine buffer spring.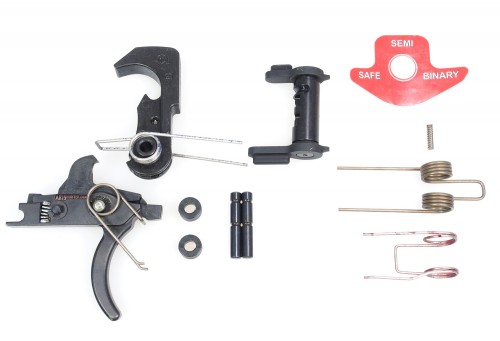 Here's a closer look at the trigger components. As mentioned earlier, Franklin includes two trigger/hammer spring sets with the BFSIII. Franklin recommends running the standard mil-spec trigger spring with the lighter blue hammer spring, which gives you the 4.5LB pull weight. This setup should ignite most ammunition, and during our tests we had no issues with mil-spec 5.56 ammunition, like M193 and M855. However, for those that need more hammer inertia to ignite strong primers, Franklin recommends using the mil-spec hammer spring. Note, using this spring will increase the pull weight of the trigger (as much as a pound or more). The red trigger spring will help you reduce the pull weight even more when combined with the blue hammer spring, just understand that if you're using hard military primers with that spring combo, you may have ignition issues.
Install
One of the key benefits of the Gen3 over the Gen2 is easier installation. Due to its simpler design, the Gen3 BFS drops in much easier, and requires very few additional steps over a standard fire control group install. The only area where you need to be careful when installing this trigger is when inserting the trigger pin. Franklin has a slave or dummer pin installed in the trigger assembly prior to shipping, which captures the IDS spring. When you insert the trigger pin, they recommend inserting it from the right hand side of the lower, using the hammer pin on the left side to guide the slave pin and keep everything lined up. This ensures the trigger spacers on both sides of the trigger are lined up properly, so the trigger pin and slave pin can move easily.
I did run into a little bit of resistance when installing mine, which ended up requiring me to push down on the back of the disconector to allow the IDS to slide back. Be sure to watch our in-depth trigger install and function check video before you install yours. Franklin does include a very detailed set of installation instructions, however sometimes it's easier to watch someone else do it, before attempting it yourself (I do that all the time, thank God for YouTube).
Watch our BFSIII install video here:
Once installed, we highly recommend you run through Franklin's detailed function checklist. This will not only ensure the BFSIII is operating properly for the best performance, but it also ensures that its safety functions are working properly.
I installed the Gen3 BFS into two lowers while testing this trigger. The first was my Daniel Defense DDM4v11 lower, which can be seen in our install video above. The next was my Colt LE6920 lower. The reasoning for swapping it into the Colt was to show many of you that it drops right in, unlike the Gen2 which could have required the lower to be machined in order for it to fit.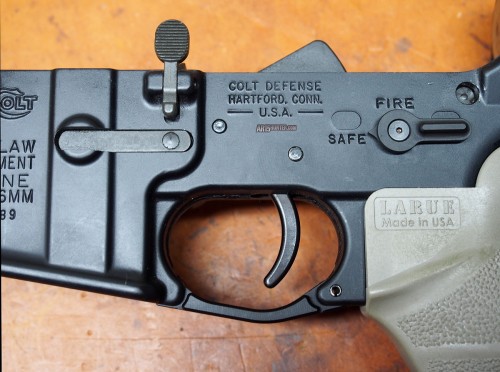 Here you can see the Gen3 BFS installed into my Colt lower.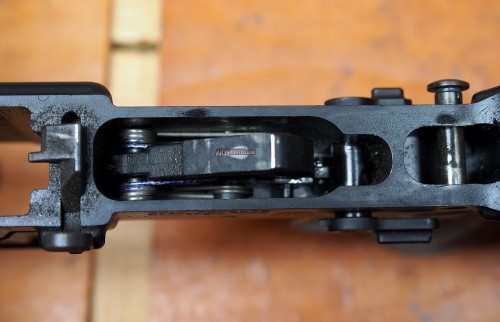 As you can see from the top view, the BFSIII fits perfectly, with the Colt sear web is still intact.
Performance
I tested the BFS with various DI gas system rifles, from carbine through rifle length. The first thing that impressed me about the Gen3 was that it required much less tuning to prevent hammer follow. Now, I want to be completely upfront and tell you that hammer follow is still possible.  Because the BFS triggers do not have an added sear trip to control timing, there is no real way to eliminate it without tuning your rifle a bit. Thankfully, the Gen3 seems to run much more reliably with a wider range of platforms. Many users are reporting that it runs great in their 5.56, .300BLK, and even 9mm ARs with no changes. I personally didn't see that "out of box" 100% functionality, but I didn't have to change a bunch of parts either.
One thing to remember about tuning the BFS is that it's very dependent on two things: one is your rifle, two is your finger. If you can move your finger very quickly, it's possible you'll have a higher chance of experiencing hammer follow.  That said, it all depends on your rifle. As I stated earlier, I did not see 100% function with my rifles right out of the box. I did see very good performance, but I was still getting hammer follow ever other mag or so. Because I've been playing with these BFS triggers for quite some time now, with close to 5000 rounds over them, I can get my finger going pretty fast.
When I got the pre-production BFSIII in for a quick test for the launch of the trigger, all I needed to get 100% function was a SpringCo Red Extra Power buffer spring (carbine). This was with the trigger installed in a Daniel Defense mid-length rifle. However, when I got my full production trigger in later this summer, I found that the heavier spring (whether using the included one from Franklin or my SpringCo) did not help reduce hammer follow in my rifles. Neither did swapping in lighter or heavier buffers (I tested carbine through H2).
Because of my past experience with the Gen2, I had brought quite a few parts with me to the range; from lighter and stronger carbine buffer springs, to lighter bolt carriers. In the end, all my rifles needed to run 100% was a lighter bolt carrier. This was the case with both carbine and mid-length gassed rifles, however not the case with my rifle-length upper, which uses a Faxon Firearms 18″ GUNNER barrel. The 18″ upper actually ran the best with a standard M16 carrier. Below are the setups I used with each to get 100% function. Note that each setup was used with a lower configured in carbine format. I did not get to test the BFS with an A2 setup. Also, note that your mileage may vary. What works for me may not work for you and your rifle.
Will's setups for 100% function:
Carbine gas: stock carbine buffer spring, "H" buffer, AIM Lightweight Bolt Carrier
Mid-length gas: stock carbine buffer spring, "H" buffer, AIM Lightweight Bolt Carrier
Rifle-length gas: stock carbine spring, "H" buffer, stock M16 style Bolt Carrier
Ammo used with all three setups was a mix of Winchester 55gr  Q3131, Wold Gold 55gr .223, GECO 55gr 5.56, and ZQI SS109 (M855 clone)
Final Thoughts
Franklin Armory continues to lead the way in the Binary trigger market. The refinements and improvements we have seen with the Gen3 are much appreciated, with the spotlight falling on its improved reliability and trigger pull. The pull weight has been reduced significantly compared to its predecessor, offering a much more pleasing trigger when using the BFS in Semi mode. Our trigger's total pull weight was right in line with Franklin's claim of 4.5LBS (+/- .5LBS), offering a nice break and reset.
With a MSPR of $429.99, some will say these triggers are overpriced. However, I feel that it's a great bargain for the functionality your are receiving. With some practice, and possibly some slight tuning, you can achieve simulated full-auto fire at cyclic rates that match the M16. Basically, if you're into doing  mag dumps, this is the trigger you seek.  If you're wanting something for faster controlled pairs, the BFS has you covered there as well.
For those of you asking, "would you use this trigger to hunt with your AR?" The answer is yes. In semi mode, the break is light enough to use for hunting, especially mid-sized game. For varmints, I'd prefer a two-stage trigger though. Binary mode might also prove useful when hunting hogs or predators, where a fast double might help ensure a quick and efficient kill.
Head on over to Franklin Armory's website to order your BFSIII today, and please tell them AR15 Hunter sent you!
Latest posts by Will Chambers
(see all)