As we get closer to SHOT Show 2016, the press releases on new products are rolling out like thunderstorms over the prairies of the west.  Wait, sorry, I got caught up in the unique marketing that Magpul is known for.  Let's get to the facts on their new Precision Rifle Stock GEN3 (PRS GEN3):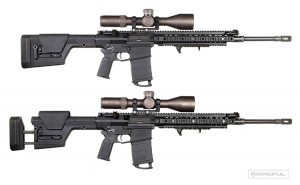 An optimized update of the revolutionary Magpul Precision Rifle Stock (PRS) for the AR15/M4 and SR-25 platforms, the PRS GEN3 is compatible
with carbine, rifle, and A5-length receiver extensions for unrivaled compatibility. Featuring tool-less adjustments for comb height and length
of pull, rotation-limited QD sling mounts, and a height and cant-adjustable rubber butt pad, the PRS GEN3 remains the finest precision stock
available for AR-pattern weapons.
The PRS GEN3 is a field precision stock for AR15/M16 and AR10/SR25 platforms, featuring tool-less length of pull and cheek piece height adjustment.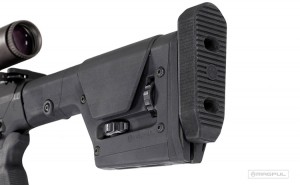 With solid adjustments for length of pull and cheek piece height via aluminum detent knobs, the PRS GEN3 (Precision Rifle/Sniper) stock provides a stable interface and is intended for semi-automatic sniper or varmint type rifles. Offering a nearly universal fit, it installs on rifle-length receiver extensions as well as mil-spec carbine and A5-length tubes. Includes a cant/height-adjustable rubber butt-pad and rotation-limiting QD sling swivel cups as well as M-LOK slots on the bottom for rear monopod mounting.
COMING 2016 – Made in U.S.A.
FEATURES
Mounts to rifle-length, mil-spec carbine, or A5-length receiver extension tubes (not included)
Enhanced strength butt-plate withstands severe impact and recoil up to .50 BMG
Rubber butt-pad provides positive shoulder purchase to prevent slippage and is adjustable for both cant and height
Machined aluminum LOP and Cheek Piece adjustment knobs with positive locking click detents
Steel adjustment shafts finished with Melonite® for wear and corrosion resistance
All aluminum components finished with MIL-A-8625F, Type III, Class 2 hard anodizing
Bottom M-LOK slots provide additional sling mounting possibilities or for attaching 1913 Picatinny rails for use with a monopod
Sling Mounts
o    Front/Rear – rotation limited QD sling swivel mounts (swivels not included)
o    Rear – 1.25″ aluminum sling loop (left-right reversible)
More information can be found on the Magpul Website:  https://www.magpul.com/products/prs-gen3-precision-adjustable-stock
In the meantime, check out the Magpul Video promoting the new PRS GEN3:
AR15 Hunter is a website dedicated to the most versatile hunting platform available today.
Latest posts by AR15 Hunter (see all)