Editor's Note:  The new Reformation line of NRS firearms from Franklin Armory looks to be another game-changer for hunters and shooters!  We will be checking this out at the 2018 SHOT Show and will post up information on our social media platforms as we gather information.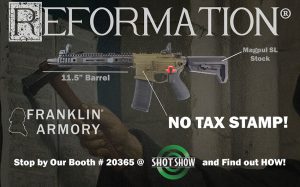 Minden, NV, January 11, 2018 – Innovative firearms manufacturer, Franklin Armory, has brought another out of the box idea to the firearms industry.  Known for their ground breaking American made products such as their Binary Firing System, F17 series rifles, and the XO-26, Franklin Armory has changed the industry once again.  The new products are part of the Reformation line of patent pending NRS firearms, and the first SKUs in the Reformation line include a non-NFA configuration with an 11.5″ barrel and a conventional stock as depicted below:

Having already received approval as a non-rifle from the Chief of the Firearms Technology Division, Reformation will be shipping without any onerous NFA paperwork required.
Franklin Armory President, Jay Jacobson, noted, "The patent pending technology employed in Reformation will create a whole new market segment that will not require NFA approval."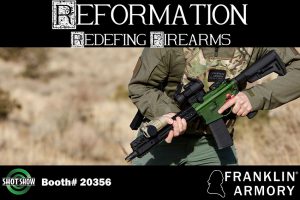 Full Press Release: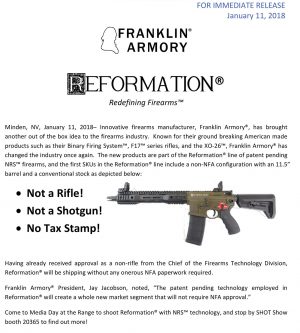 AR15 Hunter is a website dedicated to the most versatile hunting platform available today.
Latest posts by AR15 Hunter (see all)