Franklin Armory Announces the Gen 3 Binary Firing System
The folks at Franklin Armory have just announced their second BFS trigger for the AR platform, dubbed the Gen 3 Binary Firing System. A much simpler design compared to the original BFS we reviewed earlier this year, the Gen 3 BFS offers several advantages over its predecessor, including:
A simpler design that is not restricted by existing drop-in AR-15 trigger patents
Easier to install (no shimming of the trigger pack or machining of your lower required)
A lighter total pull weight of approx. 4.5 lbs (+/- .5 lbs)
Uses a standard hammer, making it compatible in just about any rifle that uses a standard AR-15 fire control group (.308AR/AR10, Sig MCX/MPX, blowback ARs, etc.)
No BUD (aka Back Up Disconnector)
Lower pricing than the competition (approx. $429.99 MSRP)
The trigger kit consists of the following components:
Gen 3 BFS trigger pack: trigger, disconnector, intermittent disconnector spacer (IDS), IDS spring, disconnector spring, and trigger spring
Extra set of lightweight trigger and hammer springs that reduce pull weight by about 1 pound (not recommended for use with .17WSM or 7.62×39 uppers, where stronger hammer inertia is required)
Trigger spacers
Ambidextrous safety selector
Hammer and trigger pins
Safe, Semi, and Binary marked sticker for the the selector area
Stronger buffer spring, which reduces the possibility of hammer follow
The new trigger is being released today on Independence day (2016), and can be ordered directly from Franklin Armory by clicking here. They noted that shipping is scheduled to start in early August; so no long wait times here! As soon as we have more details, we'll be sure to share them. Until then, see YouTube video below where we got the opportunity to test a pre-production Gen 3 BFS for a few days, prior to its official release.
God Bless America, and Happy Independence day!
Update 9/9/2016
We've received our full production BFSiii trigger system from Franklin Armory. Below is a photo of what all was included in the retail package of our Gen3 BFS.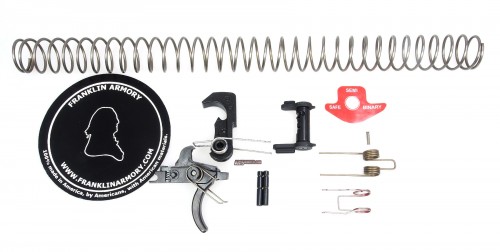 For those wondering how hard it is to install the Gen 3 into your lower, below is our installation and function test video where Will installs the BFSiii into his Daniel Defense DDM4v11 rifle.
Latest posts by Will Chambers
(see all)