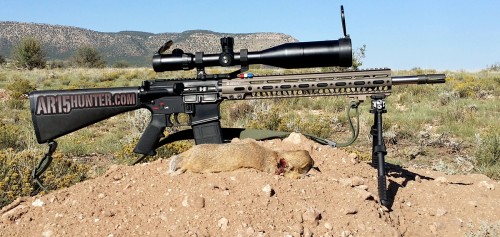 When looking for a bipod for your AR15, there are a plethora of options. Being that I'm a hunter, I had a pretty good idea of what I wanted in a bipod.  During my quest to find the perfect bipod, I ended up debating between three models from Harris, GG&G, and B&T Industries.  After careful consideration of features, weight, and price, I chose what I thought to be the best unit for my needs; the Atlas bipod from B&T Industries. What follows is my hands on Atlas bipod review after using it in the field for 6+ months.
While having a bipod on your AR is not always needed, I wanted to have a good solid from of support for situations where I'd be shooting from the prone, from a bench, or from another hard surface (downed tree trunk, etc.). However, I didn't want to add a ton of bulk and/or weight at the same time. This is why I felt the Atlas would serve me best. I'll get into that more below, for now lets take a look at the bipod's specs,  as well as some close-up photos of its features.
Specifications
Made in America!
Model: BT-10
Mount: Low profile clamp that mounts directly to any 1913 style Picatinny rail
Height Range: 4.75 – 9.0 inches
Leg adjustment: Non orientated leg length adjustment with five positions that are ¾-inches apart and can be adjusted by either hand
Swivel adjustment: 15 degrees +/- of preloaded Pan and Cant
Leg positions: stowed forward, stowed back, 90 degrees straight down, 45 degrees forward or rearward
Construction: Aircraft grade T6061 Aluminum with stainless steel springs and fasteners and UHMW components for smooth tracking
Weight: 11.0 ounces
Finish: available in any finish you want, as long as it's Hard Anodized Black
Optional accessories: 3″ leg extensions, interchangeable Ski and Multi Spiked style feet (can be easily swapped in place of the standard rubber feet)
Form and Function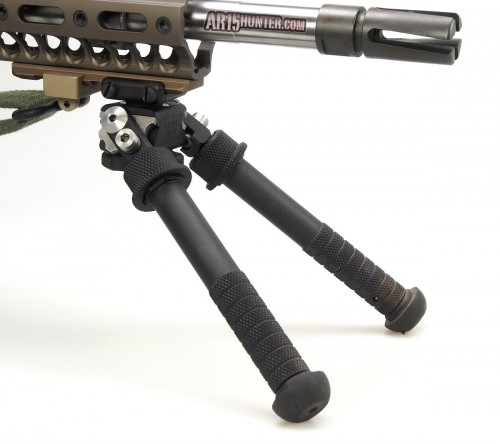 The first feature that caught my attention with the Atlas bipod was its design. It's very simplistic, offering what you need and nothing more. There are no springs in the way, and there is no added bulk. What you get is a solid, well built bipod system that gives you a stable platform to shoot from, in a variety of positions. Above you can see the Atlas mounted to my rifle.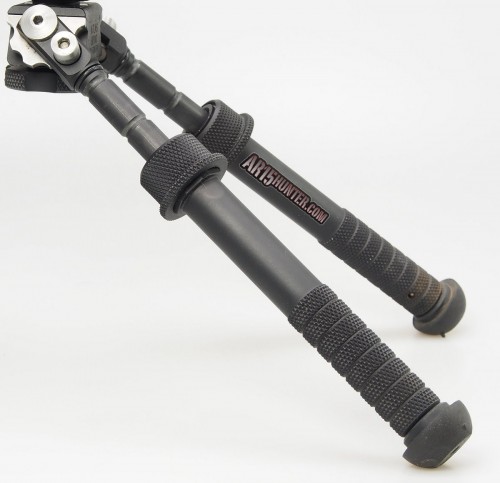 You can adjust the height of each leg from 4.75-inches out to 9-inches, with 5 pre-set length settings, and you have 5 positions to choose for the angle of the legs (stowed back, stowed forward, 45 degrees forward or backwards, or 90 degrees downward).
As I mentioned earlier, the Atlas bipod does not offer a sprung action, meaning the legs don't spring forward or outward when you need to adjust their length or position. Instead, you grasp the leg and use your thumb to pull down on the adjustment release, then adjust to the desired length. While not quite as fast as a spring loaded system, like that found on Harris' pods, I found that with practice I could quickly adjust the legs out and in. Check out the short clip I made above to show you how easy it is to operate the legs on this bipod.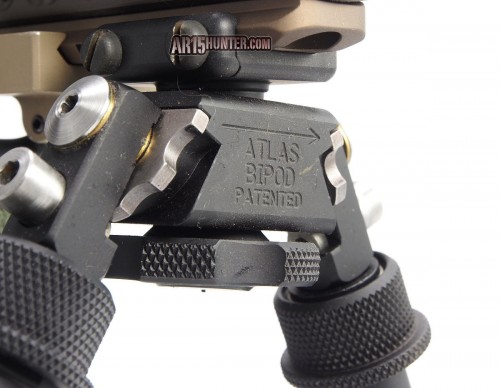 Along with the adjustments above, the pod also offers +/- 15 degrees of both preload cant and pan, with an adjustment knob to toggle the amount of tension. While this allows you to pan across your scene for targets, without having to move the entire rifle, I would have liked to see a few more degrees of movement. Scanning a wide field without changing position was not possible, where I really only needed a few more degrees to see the rest of the field.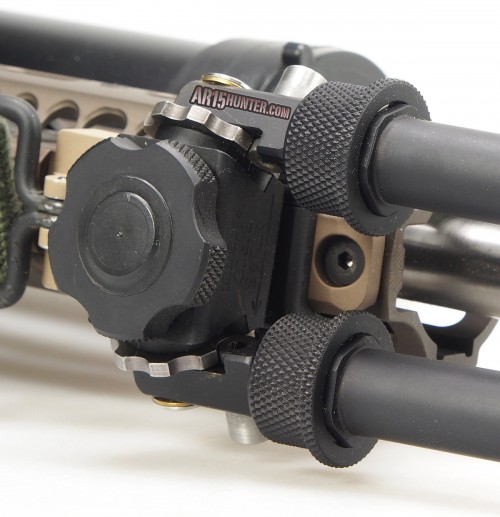 Here is a close-up of the adjustment knob. It only rotates 3/4 of a full rotation to adjust the tension on the pivot ball. Rotating it clockwise will stiffen the movement, while counter-clockwise will loosen it.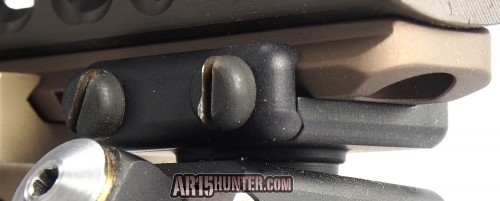 The Atlas is available in three configurations; the BT-10 non-QD clamp model we tested, the BT10-NC (No Clamp), and the BT10-LW17 which includes ADM's 170-S Lever QD mount. I chose the non-QD clamp model because I did not need a quick-disconnect system, since I don't plan on ever taking this bipod off my rifle. Above you can see the BT-10 clamped securely to my Geissele SMR MK1 rail with its two clamping screws. I've had this setup installed for over 6 months, and I've not had any issues with the screws loosening up on me. Note: the spots on the screw heads that looks like rust is actually desert sand from my most recent hunting trip to Arizona. It can also be seen in other photos, like the one below.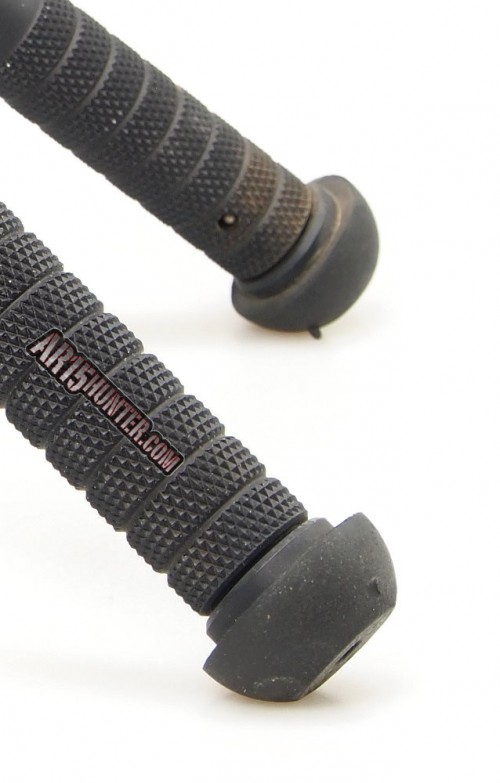 The BT-10 comes with rubber feet, which are soft and offer a good grip on various surfaces, but are also quite durable. B&T Industries also offers optional ski and multi-spiked feet for more demanding terrain, which are easily swapped out. I personally have used the rubber feet in various environments, from snow covered fields to open desert (note the sand I missed on the leg in the background while attempting to clean them up for pictures). Thus far, they've worked great and held up well.
Again, as I had mentioned earlier, one reason I chose the Atlas bipod was weight. B&T Industries notes the BT-10 model weights in at 11 ounces. That's about 2 ounces lighter than the Harris model I was looking at (which didn't include a Picatinny rail mount), and 6 ounces lighter than the GG&G offering. When you consider that my rifle is already inherently heavy due to using a heavier profile barrel, saving weight on additional components is important to me. The Atlas was the lightest of the "heavy duty" bipods I was looking at.
The final reason I chose the Atlas bipod was because of its height specs. The Atlas allows you to get the rifle much lower to the ground than the other models I looked into, with its legs offer the shortest length at 4.75-inches. However, the legs still extend up to 9-inches, which matches the height of most of its competitors. For those that need extra height, B&T Industries also offers optional 3″ extensions. I found the available adjustment came in handy both when shooting in snow, or out in the desert. With 5 defined height settings, I found it was very easy to find a comfortable height in a variety of shooting conditions.
Closing Thoughts
The Atlas may not be the most affordable bipod on the market, at about $220 for the BT-10 model I purchased, however it's one of the most versatile. The price is right in line with certain competitors, like the GG&G Heavy Duty XDS bipod. However, it's almost twice the price of a Harris BRM-S. As far as quality is concerned, the Atlas is very well made, and seems to be one stout unit. Its design doesn't appear to have any weak points, so this unit should stand up to the test of time. Whether or not the Atlas is right for you will depend on your needs and budget. I for one am very happy with the performance this bipod has provided. My only real complaint is that I wish it had more than +/- 15 degrees of cant and pan preload adjustment; which would make scanning an open field a bit easier while hunting.
The Atlas Bipod is available from many online retailers, including Amazon.com: Atlas Bipod – Amazon.com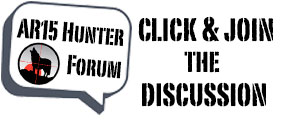 Latest posts by Will Chambers
(see all)