My hunt started on the second day of the 2014 California A-zone deer season.  It was during the mid-afternoon, Livermore, California heat, when I spotted a really tall forken horn buck feeding above a spring.   The buck was about 1000 yards away, so the stalk was on!
I took my time sneaking into shooting distance on this blacktail buck, stopping every once in a while to make sure he didn't spot me sneaking up on him.   At about 354 yards, I realized that was the closest I was going to get to the buck, while still having a clear shot.  I was on top of a finger, across from the spring, where he was feeding above.  I pulled out my Leupold RX-1000i TBR and ranged the buck.  He was 354 yards away and feeding perfectly broadside. He had no idea I was there, so I took my time.  Laying down, I leveled out my AR with my US optic level and locked it in using my Harris bipod.  With my Nikon P223 scope I put the 350 yard hold-over crosshair on the bottom of the buck's chest, just behind his shoulder and squeezed the trigger.  At the shot, I heard the bullet connect on the buck, as he stumbled down the hill collapsing 30 yards from where he was shot.
I stayed in my spot, with the crosshairs on the buck, waiting, to make sure he was down.  After a minute of waiting, I hiked over to the downed buck.  When I got to him, I could clearly see the entrance of my bullet, a perfectly placed heart shot. I rolled him over and there was a baseball sized exit wound.  I couldn't have been more excited!  After about ten minutes of just sitting there in awe and thanks, I began the hard part of packing the buck out.
On this hunt, I was using my first AR15 build.  It is a Franklin Armory lower with a Stag Arms upper (Model 6HL) in 5.56.  I have a 3.5 CMC single stage trigger with a US optic level.  The scope that I have on my rifle is a Nikon P223 4-12×40 BDC 600. My bullet of choice is the Barnes VOR-TX 55gr TSX, Lead Free BTHP.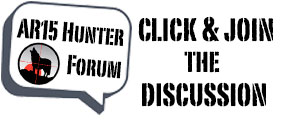 Latest posts by Joey Ploshay
(see all)