Aimpoint launches new Micro H-2 Hunting Sight.  We just received word that Aimpoint, known for their scopes that include dots that do not need to be centered in the scope to be on target (once the dot is on your target, you can pull the trigger), has released their new Micro H-2 Hunting Sight.  This sight would probably be of interest to predator callers who are looking for something that can allow for fast acquisition on closer targets.  All the information from their press release is listed below.
New sight provides additional features and enhanced performance for hunters
Aimpoint, the originator and world leader in electronic red dot sighting technology for forty years, has announced the addition of the new Micro H-2 sight to the company's commercial product line. The Micro H-2 will be available for shipment in August 2015, and will be offered alongside the company's existing Micro H-1 product.
Since its introduction in 2007, the Aimpoint Micro sight has become a popular hunting sight worldwide due to its lightweight and compact size, durability, and extremely long battery life. Product reviews with hunters and sport shooters identified a series of desired product enhancements that have now been added to this new product. These changes include: a new sight housing which allows the addition of front and rear protective flip covers, additional physical protection for the sight's adjustment turrets, and increased ruggedness for the sight's internal electronic components.
The most significant developments in the Micro H-2 however, are the advanced optical lenses that allow for even better light transmission and provide a noticeable increase in the clarity and performance properties of the sight. This ensures a more distinct and clearer dot in all conditions and situations.
"The Aimpoint Micro has become the worldwide standard for compact reflex sights" says Matt Swenson, Vice President of Sales. "With the sight's new design, the Micro H-2 takes the level of performance available from a compact sight to an entirely new level."
The Micro H-2 can be mounted on nearly any rifle, shotgun, handgun or crossbow, and can be used with most existing mounts that fit the Micro H-1 including the Blaser saddle mount.  The sight can also be mounted to a larger magnified scope with a 30mm or 34mm scope adapter giving the hunter ability to hunt at both short and long distances while providing faster target acquisition. The Micro H-2 can operate for up to five years of constant-on use, using just one CR-2032 battery, and is waterproof.
Specifications: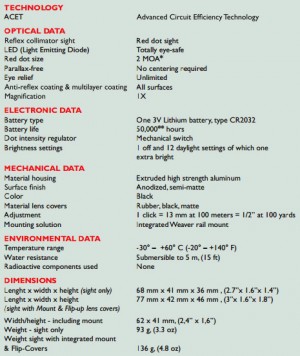 Latest posts by AR15 Hunter
(see all)