Laser Ammo's SureStrike Training Cartridge
Being in the gun business, I am regularly asked if I would like to review this or that. Sometimes the item is really cool, and you say yes right away. Sometimes it is an item that you wonder if it will work, so you accept. Sometimes it is a piece that makes you think way outside the box and you have to accept to step up to the challenge.
The last instance is the item I've been reviewing for a couple of months now. My friend Steve called me one day and asked if I would be interested in trying out a device with a laser in it for practice. My first thought was "Laser?! YES!" But, I wasn't sure it would work that well for target practice, because I don't really know a lot about lasers.
What showed up at my door a few days later has become one of the coolest gadgets I've ever tested. It is small, tiny in fact. It is precise, so much so that it will scare you. It works in broad daylight and at night (I have used it at distances over 100 yards at night). And it works like a charm. All things that make for a great product in my opinion.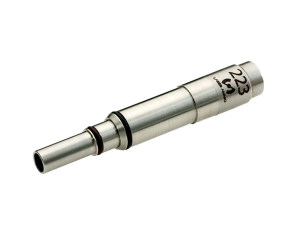 The Laser Ammo SureStrike Laser Training Cartridge is a device that looks a lot like a rifle cartridge, but isn't. The way you use it, is make sure your rifle is clear, insert the device into the chamber, close the chamber, aim and squeeze the trigger. The hammer hits the firing pin, the pin hits the back of the device and it fires the precisely aimed laser out of your barrel to wherever you were aiming! Want to do it again? Just rack the charging handle and squeeze the trigger again…over and over! When you are done you lock your bolt open, put a cleaning rod down the bore and it drops out into your hand. Simple as that.
Now I admit to not being very technical minded when it comes to computers, lasers and the like. Heck, I can barely manage my e-mail most days and my smart phone confounds me with regularity. But, this little handy device is right up my ally. It is simple.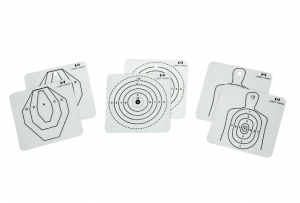 It is so simple in fact that I have spent countless hours firing it in the shop, in the house, in the yard, in daylight, at night, anytime, anywhere! It makes for inexpensive practice for holding and shooting any number of my AR-style or bolt gun style .223 rifles. The one that was sent to me included three reflective targets (which are handy around the shop) and retails for around $130.00. That seems like a small price to pay for something that will give you countless hours of practice without having to go to the range or expend ammo.
So how does this relate to hunting with an AR platform rifle you ask? Well, here's the deal. I'm sure most of us will admit that there is always room for improvement. Even someone like myself who shoots thousands of rounds a year can use improvement on different aspects of my shooting. For me, it has been a great tool to get better at snap shooting, the act of catching a song dog coming in at a fast trot or a big buck busting out of the brush in front of you at 50-100 yards away and getting the rifle mounted and shooting accurately the first time. That has been a weakness of mine for years. But now, thanks to the SureStrike training cartridge, I have been able to practice proper gun mount, target acquisition and shot placement around the farm without ever firing a bullet. This has made me more confident in my ability to hit what I'm seeing in a much faster, smoother sequence.
So if you are wanting something that can help you improve your hold, target acquisition and shooting ability, I highly recommend you look at the products that Laser Ammo has to offer. I know for sure that my off hand shooting has improved considerably since receiving this unit and spending time "blasting away" with a laser!
You can find out more about their products by going to www.laser-ammo.com.
Latest posts by Joe Chambers
(see all)