Editor's Note:  The new Reformation line of NRS firearms from Franklin Armory looks to be another game-changer for hunters and shooters!  We will be checking this out at the 2018 SHOT Show and will post up information on our social media platforms as we gather information.
SHOT Show 2018 Update: Eric and the crew were able to get their hands on the Reformation at SHOT Show. Eric took some shots with the firearm at Industry Day at the Range, and then visited Franklin's booth to get all the details. So, how is this NOT a SBR you ask? Well, as we expected, Franklin Armory has done it again with their new NRS barrel technology. By using straight cut lands and grooves, they have created a firearm that features an 11.5″ barrel, while using a collapsible Magpul stock. Franklin claims that they've tested this new technology with off-the-shelf ammunition, and they are seeing 4MOA results (tested out to 100 yards); which is pretty impressive since these straight lands and grooves are not imparting a spin to the projectile like rifling does. In addition to NRS technology, they've created "fin and flare stabilized projectiles and ammunition for near MOA performance". So, for those thinking the Reformation would not be effective beyond 50 yards, think again!
How much does it cost? Well, they are going to release several of their firearm offerings equipped with this new NRS technology, which we'll list below with pricing. The initial offerings will be chambered in .300 Blackout, with 5.56/.223 and .308 coming at a later date.
Reformation initial offerings & pricing:
Libertas 11.5″ SBN NRS .300BLK with BFSIII  (Black, Desert Sand, or Black): $2094.99
Libertas 11.5″ SBN NRS .300BLK  (Black, Desert Sand, or Black): $1679.99
NRS CU 11.5″ SBN with FSR Handguard in .300BLK (Black, Desert Sand, or Black): $1034.99
Check out the slideshow below to see various photos from Industry Day at the Range, and the SHOT Show floor. We'll continue to update this post until we get a sample in to test.
Below you can see Franklin Armory's official Reformation video.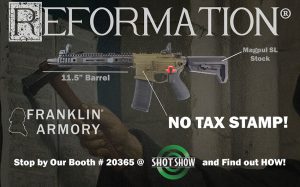 Minden, NV, January 11, 2018 – Innovative firearms manufacturer, Franklin Armory, has brought another out of the box idea to the firearms industry.  Known for their ground breaking American made products such as their Binary Firing System, F17 series rifles, and the XO-26, Franklin Armory has changed the industry once again.  The new products are part of the Reformation line of patent pending NRS firearms, and the first SKUs in the Reformation line include a non-NFA configuration with an 11.5″ barrel and a conventional stock as depicted below:

Having already received approval as a non-rifle from the Chief of the Firearms Technology Division, Reformation will be shipping without any onerous NFA paperwork required.
Franklin Armory President, Jay Jacobson, noted, "The patent pending technology employed in Reformation will create a whole new market segment that will not require NFA approval."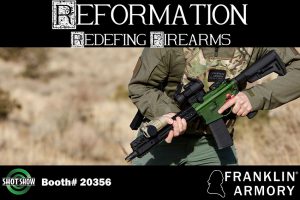 Full Press Release: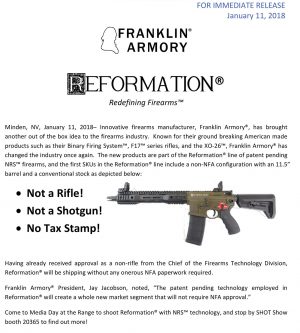 Latest posts by AR15 Hunter
(see all)