Head Down Products Unveils AR15 Designed for Predator Hunters
Dallas, GA – Head Down Products is proud to announce the Uncle Parvo line, a line of AR-15 rifles specifically designed for predator hunting applications and the specific needs of hunters. 
While the value of the AR-15 platform is well known in the hunting world, quite often the AR-15 market leans toward the tactical/defense application and not the outdoorsman. Head Down Products is proud to change that.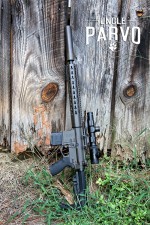 The Uncle Parvo line of rifles are lightweight, tough and includes a modular rail featuring KeyMod™. This rifle features a 14.5″ barrel equipped with a mid-length gas system. The Uncle Parvo ships suppressor ready, with a Gemtech G5 QD/muzzle brake pinned for ATF compliance. 
This weapons system ships ready for the wilderness. The Uncle Parvo line ships from the factory optics ready and ready for your game and predator hunting needs.
Head Down is proud to offer this line to hunters and outdoorsmen who desire a true hunter ready, suppressor ready AR platform.
Specifications:
Caliber: 5.56 NATO
Barrel Length: 14.5″
Gas: Mid Length 
Rate of Fire: Semi-Auto
Rifling: 1/7″ RH (5.56)
Handguard: Uncle Parvo Signature 13″
Stock: MFT Stock
Pistol Grip: Standard
Magazine: 1 x 30rd Magazine
Muzzle Device: Gemtech G5
– Mil-Spec Carpenter 158 bolt carrier group HPT & MPI with properly staked gas key
– Salt Bath Nitride Coated Steel Barrel
– Precision milled billet upper and lower receiver
– Integral trigger guard
– Type III hard coat anodize finish
– Flared magazine well
– All of our rifles ship with Modern Spartan Accuracy Oil and Carbon Destroyer
– All 5.56mm lower receivers are marked "CALIBER: MULTI"
– All rifles come standard with a hard rifle case
– Rifle For Life Warranty
**Additional Caliber Options:
6.5 Grendel, 6.8SPC, 300AAC & 450 Bushmaster also available for additional cost.
Latest posts by AR15 Hunter
(see all)